The Archmage Returns After 4000 Years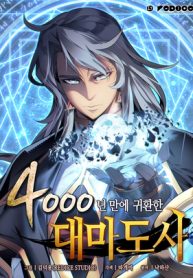 Rating:
Status:
Ongoing
Release:
2020
Author:
Barnicle, Nakhasan
Artist
KD-DRAGON, Redice Studio
Reading Direction:
Left to Right
Synopsis:
Lucas Traumen was the best archmage in history until he was sentenced by Demigod to spend time everlasting losing his brain. In any case, after 4,000 years, he's pushed once again into this world, into the group of Frei Blake, the most vulnerable, most un-gifted understudy at the lofty Westroad Academy for mages. After this time, the universe of sorcery has scarcely advanced. Could this be crafted by Demigod? Resolved to discover, Lucas tries to arrive at the most elevated levels of force indeed and get his vengeance.
The Archmage Returns After 4000 Years Chapter Lists